Shelby Materials Partners with Meals on Wheels of Hamilton County for Giving Tuesday
#GivingTuesday is a global day of giving fueled by the power of social media and collaboration.
Family-owned Shelby Materials is happy to be the wheels on the ground this Giving Tuesday to help shine a light on the need for nutritious meals for the homebound as well as the importance of volunteers to get them to their destination. Several representatives of the ready mix and aggregate company will assist Meals on Wheels of Hamilton County deliver meals on Giving Tuesday. In addition, the company is donating $1,500 to assist the organization to reach its Giving Tuesday goal of supplying 300 meals.
"Our team is excited to help make an impact in a community we serve," said Matt Haehl, VP of operations and sales at Shelby Materials. "Often individuals are surprised there is a need in Hamilton County, but food insecurity, hunger and isolation exist all around us. Meals on Wheels of Hamilton County is doing amazing things for the elderly, disabled and homebound in our area, and we're happy to lend a hand to support that."
Shelby Materials began in 1951 as a small-town-company. We've grown to 12 different locations throughout Central Indiana, and remain committed to giving back in the cities and towns in which we work through our time and resources.
Celebrated on the Tuesday following Thanksgiving (in the U.S.) and the widely recognized shopping events Black Friday and Cyber Monday, #GivingTuesday kicks off the charitable season when many non-profit organizations focus on their holiday and end-of-year giving
Meals on Wheels of Hamilton County annually delivers more than 55,000 meals in all eight communities of Hamilton County including Arcadia, Atlanta, Carmel, Cicero, Fishers, Noblesville, Sheridan and Westfield. They depend entirely on monetary donations to not only operate, but to deliver the nutritious meals to the elderly, disabled and homebound. Friendly compassionate volunteers are needed as well.
In 2017, Meals on Wheels of Hamilton County delivered their annual meals with the help of 426 volunteers. "The success of our pr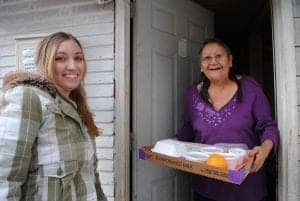 ogram depends on the compassionate hearts in our community," said Beth Gehlhausen, executive director of Wheels of Hamilton County. "Personal home delivery is an important part of that. Our drivers may be the only friendly face the client sees daily. We're thrilled that Shelby Materials has partnered with us to help shine a light on that important element and the need for more volunteers."
Thirty-five dollars a week provides for two healthy meals per day for a client. A donation of $145 provides meals for an entire month for one elderly, disabled or homebound individual.
About Meals on Wheels of Hamilton County
Established in 1975, Meals on Wheels of Hamilton County supports individuals who are elderly, disabled and homebound by delivering nutritious meals, reducing hunger, improving health and promoting independence. Meals are prepared in state-approved healthcare facilities and designed by a certified registered dietitian under a physician's prescribed supervision according to the client's specific dietary needs. Nearly 200 meals are delivered daily by volunteers to enable our clients remain independently living within the community in their own homes for as long as possible. For more information on receiving services or to volunteer, contact Meals on Wheels at 317-776-7159.
About Shelby Materials:
Shelby Materials supplies ready mix concrete and aggregate materials throughout Central Indiana. Concrete project work ranges from large to small and includes hospitals, large industrial buidlings, warehouses, infrastructure and residential construction. Additionally, golf and athletic specialty blends are supplied, including materials for both Indiana University and Purdue University golf courses.