The Shelby Materials Team Celebrates 70 Years
Our team is especially excited for 2021 because it marks Shelby Material's 70th year in operation. As the Shelby Materials team celebrate this significant milestone, we also plan to take a look back and reflect on the 70 years of history that has brought us to where we are today, with 12 Central Indiana locations and more than 225 employees on staff.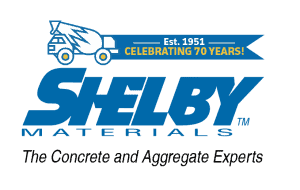 Early Days of Shelby's History
Even before the official opening of Shelby, John D. Haehl Sr. and his brother-in-law Thomas J. Wheeler got their start in the crushed stone business in 1946 with the opening of Cave Stone Company in Norristown, IN. Just a few years later in 1951, Haehl and Wheeler founded Shelby Gravel at the former Barker Sand & Gravel property in Shelbyville. 
Rebuilding in Shelbyville
The '50s and '60s saw major expansion for Shelby Gravel Inc. We completed our first major construction project just four years after opening with the General Electric Industrial Heating Department factory in Shelbyville. And in 1967, Shelby was awarded a 10-year long infrastructure contract to reconstruct several Shelbyville city streets, including McKay Road and St. Joe Street.
Remaining a Family-Run Business
In the '70s and '80s, the next generation of Haehls joined the Shelby team and eventually took over management of our family-owned-and-operated business. This era also brought new technology to Shelby Gravel Inc. with our first front discharge truck purchased in 1976 and a concrete computer-based batching system brought on in 1985. 
Growing in the Market
The 1990s saw the Shelby team building four new concrete plants, a new aggregate plant and a concrete reclamation system. We also came into the sports material business by winning contracts to complete the Legends of Indiana and Brickyard Crossing golf courses, meeting strict USGA specifications. In 1997, our business was officially renamed Shelby Materials, in order to showcase the vast variety of concrete, aggregates and custom blends we currently offer. 
Bringing on the Newest Technology
The 21st century brought Shelby the third generation of the Haehl family to join the team, as well as the latest in concrete and aggregate technology. In 2009, we improved our dispatch efficiency with real-time GPS, and by 2012 we moved all of our resources to a centralized computing data center and overhauled our concrete batching and dispatching systems. With our continued technological updates, you can expect nothing less than top efficiency and on-time delivery within your budget for all of your concrete and aggregate needs.
As we look forward to Shelby's 70th anniversary in 2021, you can help us celebrate too by working with our team on your next project. Shelby would enjoy nothing more than to serve your home or business with our Shelby Impact of Quality, Expertise and Precision. Contact us online or at 317-782-3200 to tell us about your next job.