Did you know in Indiana alone, 1 million people – including 1 in 5 children – don't know where they'll get their next meal? Yes, food insecurity is a very real problem facing many families in our communities. The Million Meal Movement is tackling this issue head on, not only by packing meals, but by providing hope and inspiring volunteerism.
The Shelby Materials team strongly believes that service to others makes the world a better place, and we love when we have the opportunity to volunteer together and make a difference. This week we joined the Million Meal Movement, fought hunger and helped pack meals for those in need within Central Indiana. It was an unforgetable experience for our crew.
We used our skills and team work to pack  720 bags (equal to 4,320 meals) for hungry families in Indiana. We worked together, we danced a little, we laughed and we rocked our packing line.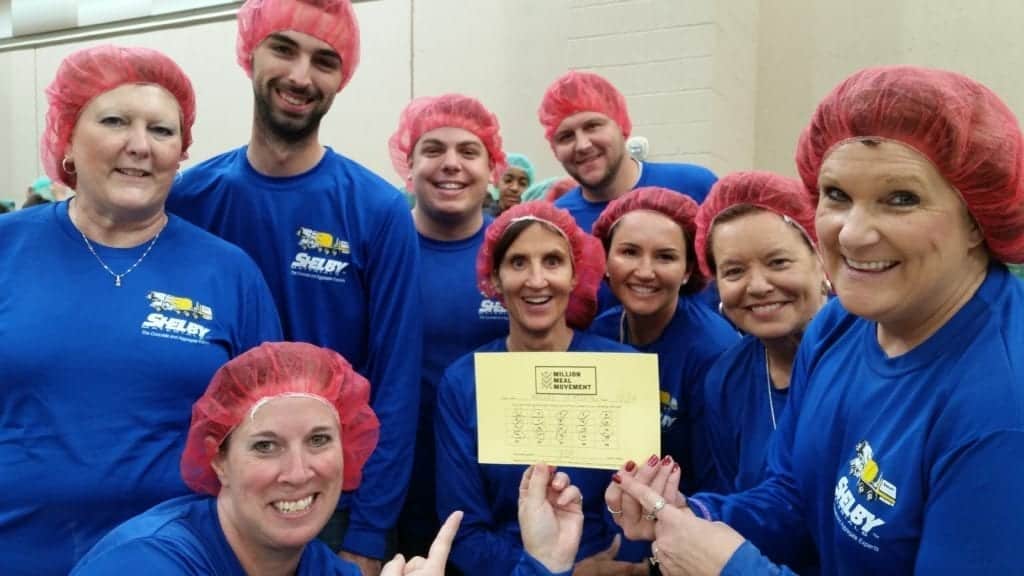 Here is what our team had to say about their Million Meal Marathon packing experience:
Great opportunity to help others! Glad I could help! – Tony
We did a great job! Woot Woot! – Ben
I truly had a great time!  It was neat seeing everyone – of all age groups – working hard to help those in need. – Jenni
When we were asked to be a part of the Million Meal Marathon, I did not know what to expect. To see the unbelievable number of volunteers made this event an impressive one. As a member of the Shelby Materials team, we worked together, processed a lot of meals, and had a blast doing it!  I enjoyed the experience and hope to do it again. – Susie
I learned that not only is Shelby Materials good at giving back to the community, but they are also very competitive and like to be the best at whatever they do!!!!! Thanks for inviting me to be a part of the team and most of all thanks for caring about those in need! – Lisa
It was an honor to help out for a great cause with a great team of employees. – John
I am so glad I was able to be a part of this experience! It was so much fun working with my Shelby Materials group. We went as a team and we worked great as a team!  Felt great working with my friends/coworkers and knowing we were helping families across Indiana. I do hope the Shelby Materials team can do this again next year! –  Peggy
This was a great experience to help out people in need. Had a blast doing it and looking forward to next year. Shelby Materials is a GREAT team!!! – Laura
I was honored to be a volunteer for this very worthwhile event, helping to feed hungry familes.  I had a wonderful time with my co-workers and friends.  It was a very humbling experience, to realize that what we packed may be the only meal that they have. Thanks for the opportunity. Looking forward to next year. – Kim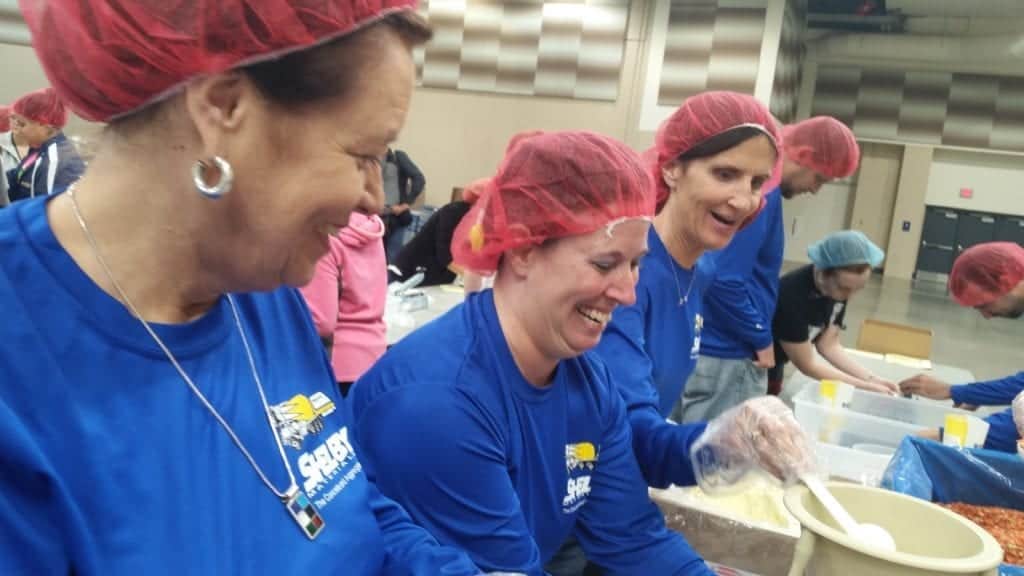 And our full stats from our 2 hour volunteer time slot via our stat guru, Ben.
     6 meals          =            1 bag
     36 bags          =            1 box
   20 boxes          =            720 bags
   720 bags          =            4,320 meals
---
360 bags/hr                     2,160 meals/hr
6 bags/minute                 36 meals/min
1 bag = 10 seconds         1meal = 1.5 seconds
Learn more about the Million Meal Movement here.
Looking for a fun way to volunteer as a group or family this holiday season? We've got the 411 from Indy's Child. See their full list here.