Proscenium, a massive $60 million mixed-use development located at the corners of Range Line Road and Carmel Drive in Carmel, Indiana, is visually impressive. The first phase is a 13,000 yard, 15 inch thick, all concrete podium. The podium will serve as the foundation of future vertical construction. Parking will be located b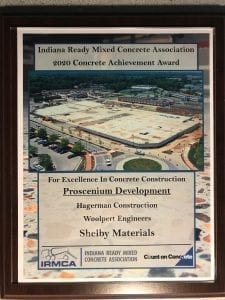 elow the podium deck maximizing amenities. Shelby Materials is proud to have worked with The Hagerman Group on Carmel's Proscenium project and to have received a 2020 Concrete Achievement Award from the Indiana Ready Mixed Concrete Association (IRMCA).
Due to insufficient constructible soils on the site and a need to raise the commerce to street level at Rangeline Road, it was decided to build a concrete podium that would serve as the foundation of mixed used development construction above. The podium will also serve as the functioning slab of some of that development. The 15 inch thick podium slab was placed in 12 pours. Over 10,000 yards of concrete was used in the slab. Critical coordination was required to maintain pour rates and deal with urban congestion during delivery. All participants were held to a strict schedule as future construction was eager to begin.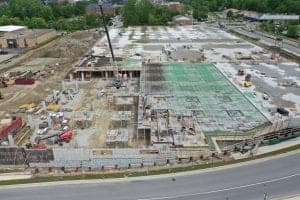 The mixed-use development combines the ease of upscale living with the luxury of retail shops and dining options right outside your front door, and is marked to be a cultural center for the city. It features a four-acre community centered around 1.8 acres of landscaped green space and 20,000 square feet of retail space.
The development will include 225 luxury one- and two-bedroom residential units and high-end amenities designed to appeal to the walkability and social needs of the millennial generation. The Proscenium Development's residential component, REV, is a one of a kind, 26-unit condominium community.
Additionally, Indiana's first Wahlburgers restaurant will also be located at Proscenium, and three central Indiana companies—Schwarz Partners, Valeo Financial Advisors and Lauth Group, Inc.—are relocating their corporate headquarters to the Agora at Proscenium, a four-story, 100,000-square-foot office building.