Shelby Materials is proud to have provided the concrete yardage on the new POET Biorefining plant in Shelbyville, Indiana that will create 80 million gallons of clean biofuel per year and 28 million bushels of corn demand from farmers within a 30-mile radius.
The 28th starch biofuel plant for the South Dakota-based POET's network, and the fifth in Indiana. It will add 45 full time jobs and $110 million in annual corn purchases for farmers in the area, primarily within a 30-mile radius. POET started hiring for full-time positions in spring 2019.
"POET's project provides jobs right here in Shelby county, but its indirect effects will extend well beyond that," said Brian Asher, Shelby County Development Corporation Executive Director. "This boosts income for farmers, expands the tax base and circulates new dollars across the entire economy."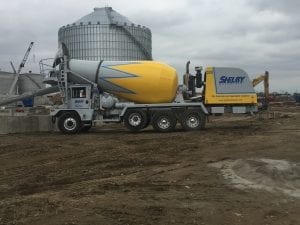 The new facility includes POET's state-of-the-art environmental controls and production processes. Those include features such as the proprietary Total Water Recovery, which eliminates process water discharge from the plant, and POET's patented BPX process, which lowers energy use and increases yield, making this state-of-the-art plant even more efficient.
POET's Shelbyville project at a glance:
– 80 million gallons of clean biofuel per year
– 28 million bushels annual corn demand
– Nearly 3 million in added value for local ag products
– Nearly $160 million capital investment
– $2 million+ in annual payroll
– 45 new full time jobs
– More than 275 temporary jobs during construction
About POET:
POET, the world's largest biofuels producer, is a leader in biorefining through its efficient, vertically integrated approach to production. The 30-year-old company has a network of 27 production facilities. POET, through its joint venture with DSM, also operates a commercial-scale cellulosic ethanol plant in Emmetsburg, Iowa. For more information, visit poet.com.