Project Description
Shelby Materials is proud to be a part of the New US 31 Hamilton County project to upgrade US 31 to freeway standards from I-465 at the Marion-Hamilton County line, through Carmel, Westfield and all the way to Kokomo.
One of the most aggressive road project ever attempted in Hamilton County, the three year project upgrades US 31 to Federal freeway standards. The project is intended to reduce congestion, improve safety a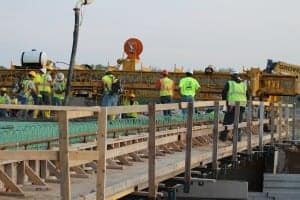 nd provide continuity of commerce and regional travel for a US highway that stretches from Michigan to Alabama. When completed, travel time between Indianapolis and South Bend is expected to decrease by about 30 minutes. Construction began in 2011 and, with the accelerated schedule, the entire corridor is expected to open to traffic between I-465 and SR 38 by December 2015.
The project includes 20 bridge structures, 5,300 square yards of concrete pavement, and 750 square yards of decorative pavement.