When complete in the summer of 2023, the nearly-$65 million Bartholomew County I65 project between State Road 58 in Walesboro and State Road 46 in Columbus will improve safety and mobility along a 4.5-mile stretch of interstate highway that is seeing exponential growth in traffic volumes.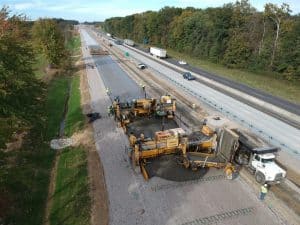 The project aims to add capacity and improve mobility via a third travel lane in each direction of I-65 in Bartholomew County, widening bridges at Denois Creek, rehabilitating bridges at Opossum Creek, replacing a number of structures on and over I-65, and resurfacing all travel lanes to the north from the Driftwood River Bridge near Columbus to U.S. 31 at Taylorsville.
Shelby Materials is proud to be working with Force Construction on the project. To date, we have delivered 5,250 yards of concrete. Most of the work has been bridges and infrastructure. We also have worked closely with INDOT to utilize a new bridge deck overlay mix. The old design was both difficult to produce and place. This new design utilizes a combination of E5 and liquid fly ash that eliminates the need for bagged microsites.