Project Description
Archer Daniels Midland Company (ADM) is one of the largest agricultural processors in the world. Shelby Materials was contracted by XXX for this large 24 hour continuous pour for an expansion at ADM's facility.
Younglove constructed Contract No. 6 for ADM's new $30 million flour milling plant in Beech Grove, Indiana. This portion of the project consisted of a slipform eight-story mill tower to house the bulk plant storage bins and miscellaneous equipment and required a 24 hour continuous pour. This structure employed rounded corners in the bins and trowel finishing inside of the bins as the slipform process progressed.
The plans ultimately included a 30,000-square-foot concrete slip form building out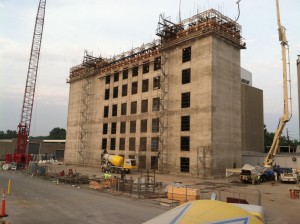 fitted with new, fully automated milling equipment and process controls, along with three bridge structures, provided by contractor Todd & Sargent, Inc.