According to The Family Firm Institute, only about 30% of family businesses survive into the second generation, 12% are still viable into the third generation, and only about 3% of all family businesses operate into the fourth generation or beyond.
On Friday November 11, 2016, the Shelby Materials team celebrated 65 years of service to Central Indiana. Yes, our foun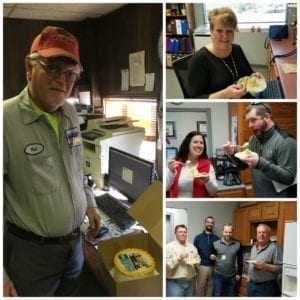 ders, WWII Veterans John Haehl, Sr. and Tom Wheeler, launched our company on Veterans Day 1951 – It was a great day to embark on an entrepreneurial success story.  As a family, we are extremely proud of our 65 year heritage and even more ap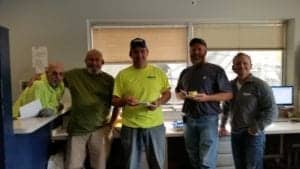 preciative to be in the 12% above, with the third generation of Haehls active in our day to day operations.
"I am both personally and professionally proud that Shelby Materials has reached this milestone. Professionally, it's a tribute to those past and present who work here –family or otherwise — in their commitment to quality work and simply doing the right thing. Watching my dad work so hard to build the business, knowing what it meant to him to pass the baton to my brothers and I, and now as we have brought our own sons in to hopefully carry the company forward into the future … is truly a blessing none of us take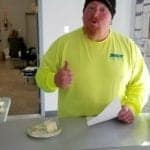 for granted," says Richard Haehl, executive vice president of Shelby Materials.
This year, as we've celebrated our milestone, we've enjoyed looking back at where we've come, celebrating where we are and looking to the future with great excitement. We can't wait to see what the next 65 years hold. Hopefully, more cake!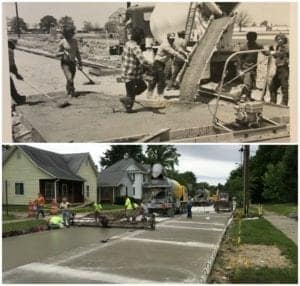 As we were going through old photos and reminiscing, we came across this gem. It's Larry Atwood, now of Atwood Concrete Construction pouring McKay Road in 1976 when he was with Jim Anderson Concrete Construction. Just this year Larry poured that very same street. Now that's 40 years of #CountonShelby ready mix love right there.
Many things may have changed and evolved over the 65 years, but one thing has remained constant – The Shelby IMPACT. Our commitment to providing a quality product with precision and expertise has always been a constant. It's just who we are.
* To see more photos of Shelby Materials locations celebrating on November 11, 2016, click here.