Project Description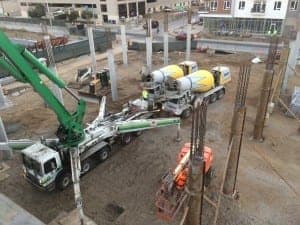 The downtown Indianapolis skyline is ever-evolving. The newest structure to come on the scene is a $30M Cummins Global Distribution Headquarters. The building will occupy the four-acre site where Market Square Arena previously stood.
Contracted through F.A. Wilhelm Construction Company, Inc., Shelby Materials is pouring on the 10 story office structure with ground level retail space, as well as the multi-level parking structure adjacent to the office building.
The project is slated to be complete in 2016.